Few things project the elegance, sophistication and allure as a winding iron staircase in your home. Iron stairs in Bakersfield, CA are the pinnacle of luxury and a callback to turn of the century interior design styles. If you're looking to adopt the sophisticated style and hardened resilience of a wrought iron staircase into your home, Jaguar Wrought Iron is the company to call.
Staircases
With years of experience in building and customizing iron stairs, we're able to take your vision and translate it into reality. From post-modern, minimalistic iron stairs, to elaborate, decorative spiral staircases, we do it all. Our attention to detail us simply unmatched, meaning our customers are guaranteed a product that's truly one-of-a-kind. We work with staircases of all sizes and styles—whether you've got a single stretch of stairs or a multi-part winding staircase with multiple landings.
Iron Railings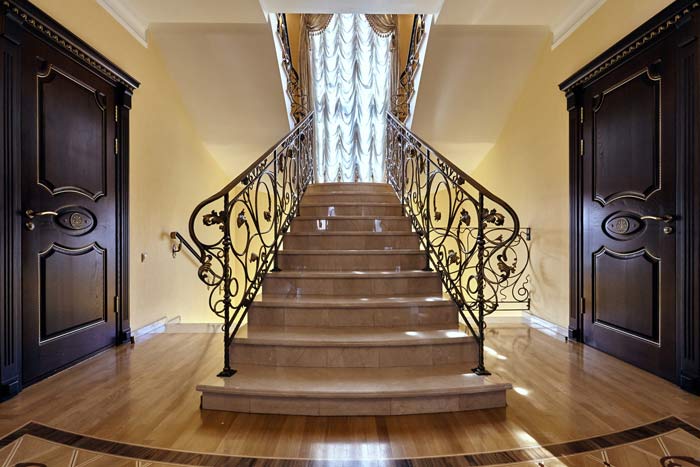 In addition to full staircases, we also apply our talent and vision to projects involving iron railing in Bakersfield, Edison, Gosford, Oildale, and Kern County, CA. Whether you need a single railing to flank your front steps or you're looking for a decorative, multi-section railing for a wheelchair ramp, we have the ability to create something unique and beautiful.
Our iron railings can serve as both guard rails and had rails, making it possible to install them virtually anywhere on your property, inside or out. Customers frequently task us with creating wrought iron railings for interior and exterior stairs, balconies, pool enclosures, garden paths and more.
See our designs
If you're looking for inspiration for a wrought iron staircase or railing, we encourage you to visit our showroom today. We have the largest showroom in Kern County and take pride in consulting with home and business owners about their need for wrought iron stairs and railings.
For more information about our capabilities with iron railings, security doors, gate operators, and more or to get started consulting with one of our seasoned fabricators, please contact us today by calling 661-323-5015.